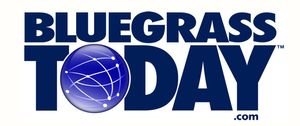 Visible behind the house built in the mid-1700s, long before West Virginia was a state, is Short Mountain. In that house Joe Hott's grandfather lived from the 1920s. 
6 foot 4 inches tall, the 22-year-old Joe (sometimes Joseph) Hott was born in Virginia and raised in those very mountains of West Virginia. That early life move led to him readily picking up a love for music, fostered by his father and two uncles, who played and sang traditional music. 
He didn't really get inspired by bluegrass music until he was about five or six years of age, when the Lewis Family visited his hometown and did a show at the fairground there, "but I've been hooked on it ever since!" 
As he went to say when interviewed by Country Music News International …. 
"I remember as a kid counting the days until Sunday when we would go to church because my favorite part was singing the hymns. Growing up Brothern we only used piano and a hymn book, since they were pretty old school but, that's all we needed, and you couldn't find better church singing than right there in those four walls."